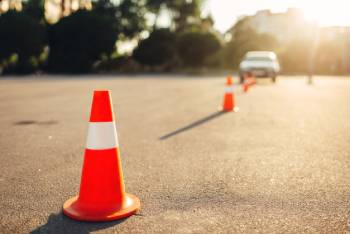 A responsible driver is a safe driver. At Mike's Driving School, we aim to develop responsible drivers by offering both personal and commercial driving training. Led by our experienced instructors, we are pleased to offer drivers throughout South Jersey several types of driving courses and commercial driver license (CDL) training at our Clayton and Williamstown, New Jersey locations. Learn more about the courses we offer and how they can benefit you.
The Driving Courses We Offer
On the road, there are several different types of drivers. There are those new to driving and others who have been driving for years. In addition, there are professionals on the road who drive for a living. No matter what kind of driver you are, you might be able to benefit from professional driving raining.
Mike's Driving School accommodates motorists of all skill levels with several educational driving courses, including:
Teen Driving Course
Learning how to drive can be an exciting time for teenagers but one that should be taken seriously. One of the biggest risk factors for teen drivers is errors as a source of inexperience. Our complete teen driving course teaches students safe driving practices behind the wheel and prepares them for different circumstances they might encounter while driving. Not only is this course designed to teach teenagers the rules of the road but also to help them gain their confidence.
Defensive Driving Course
Certain scenarios on the road require use to proactively react to prevent dangerous outcomes. Our defensive driving course focuses on these types of scenarios and teaches students the best course of action to avoid any danger. Students can take the six-hour course to save money on their car insurance, reduce points on their license, or simply become better and safer drivers. Those interested can register for this course online and begin at any time.
Adult Initial, Refresher, and Evaluation Courses
Operating a motor vehicle safely is a skill. Like all skills, it must be continuously practiced. After years of driving, it can be easy for drivers to form bad habits without even realizing it. Our adult initial, refresher, and evaluation courses are intended to help permitted and licensed drivers maintain and improve their basic driving skills. Topics covered in the course include:
Safety measures
Reaction time
Defensive driving and awareness of your surroundings
Highway training
After-accident training for license reinstatement
CDL School Courses
A Career on the open road can be very rewarding but requires a certain level of knowledge and skills. Our CDL school courses help prepare students to take their exams and obtain their CDL. Many of our courses include OSHA-approved forklift operator training to provide students with additional industry skills, making them more desirable to potential employers. Mike's Driving School currently offers the following CDL courses:
Class A CDL – Advanced Class A with Forklift Course
Class A Refresher – Advanced Class A Refresher Course
Class B CDL – Advanced Class B Straight Truck with Forklift Course
Class B Passenger Endorsement – Advanced Class B with Passenger Course
Learn To Drive Forklifts – Forklift OSHA Certification Course
Personal driver courses are offered at our school in Williamstown, NJ. All CDL courses are offered at our other location in Clayton, NJ. Financing is available for our CDL school courses. In addition, we offer financial aid to those who qualify.
CDL Training Course and More at Mike's Driving School
Mike's Driving School has been instructing and training drivers for three decades. We are pleased to offer several educational driving courses and CDL courses to students throughout South NJ, including Burlington County, Cape May County, Audubon, Pittsgrove, Vineland, and Voorhees Township. All of our courses are led by experienced instructors who offer technical instruction in a friendly and encouraging environment. Contact us today to learn about the driving courses and training programs offered at Mike's Driving School.