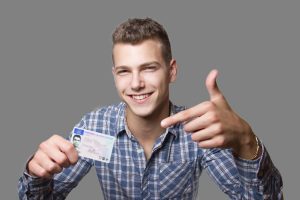 Our complete teen driving course promotes safe practices behind the wheel and allows teens to gain experience in a variety of locations and circumstances. Solid driver education for teens helps reduce the number of crashes and traffic violations. Our calm, professional driving instructors pick up at the door and provide a safe space for teens to gain confidence while learning the rules of the road. Mike's Driving School in Williamstown, New Jersey, offers convenient driving classes for teens, as well as assistance with the basic driver's license test.
Graduated Driver's License Program (GDL)
The Graduated Driver's License Program is active throughout the United States. It helps new drivers learn under lower-risk conditions and gradually adds driving privileges through several stages of the program. All instruction is individualized. At Mike's Driving School, our teen driving course has the following features:
Six-hour training behind the wheel: These are one-on-one lessons with experienced instructors
Flexibility with lesson structure: Three two-hour classes, or two three-hour classes
Motor vehicle vision test: Conducted in the comfort of our office
Written permit test: Only offered for 16 year-olds
Road test training: Refresh your parallel parking and K turns in our car before taking the DMV driving test (this optional service is provided for a separate price).
Six months after receiving the permit, teen drivers must practice supervised driving before taking the road test. Supervised driving regulations require that a licensed driver, over the age of 21 and who has at least three years of driving experience, sit in the passenger seat during the ride. Only one additional passenger is allowed unless the experienced, licensed passenger is a parent or guardian of the teen driver.
After receiving the probationary driver's license, NJ law directs that teen drivers practice unsupervised driving for one year without the use of cell phones or any hand-held wireless devices and always wear seatbelts.
Teen Driving Courses for Safety
Take advantage of professional, experienced driving instruction to learn safe driving skills. We offer door-to-door service for your convenience. We pick up the new driver and take them to lessons and we return them home. If the teen is 17 years old, or older, they must first have a valid permit from New Jersey Motor Vehicle Commission (NJ MVC) before starting lessons. For teens who are 16 years old, we can facilitate the permit in our office.
Get Your Permit at Age 16
If teens are 16 years old, they can enroll in the driving class for teens at Mike's Driving School and take the permit test in the office. After successfully completing the test, we can issue the driving permit and driving classes can start. This way, you won't have to visit the NJ MVC office until you are ready to take the road test!
Once teen drivers have received their New Jersey driver's license and have gained more experience, they may also consider taking our defensive driving course to sharpen their safe driving skills. We work with parents and families to facilitate the best driving experiences and training for teen drivers.
Risk Factors for Teen Drivers
Even after driving for many years, people can experience hazardous driving conditions and dangerous drivers. For new drivers, there are initial risk factors that come with inexperience. Mike's Driving School addresses risk factors in our driving course for teens:
High speeds and risky weather situations
Inexperience as a source of driving errors
Teen passengers as particularly distracting
Sleepiness and night driving
Alcohol, marijuana, medications, and other drugs
Driving without a license
Normal human brain development stages
Not always wearing seat belts
Instructors at Mike's Driving School
We pride ourselves on successfully teaching our teen driving course with an emphasis on safety. Our professional instructors are friendly, patient, and calm. They are experienced at teaching new drivers such as teens.
Enroll in Our Teen Driving Course
When teens reach driving age, parents and family members may be concerned about safety, or they may not have time to give the initial instruction. With Mike's Driving School, your teen is picked up at home, taken to lessons, and returned home. They are given a thorough grounding in safe driving techniques and build confidence under the supervision of a professional driving instructor. To enroll in our driving course for teens offered in Williamstown, NJ, contact us today.